Luxurious ERF 2023 Gala Dinner, served by Michelin accredited Master Chef 
Thomas Pasfall
.
Getting to campus
The tram leaves directly from Odeon in direction "Hjallelse". 18 min later you get off at "SDU CAMPUS", and then you are right in front of the university main entrance. Your conference badge is a valid Tram ticket for the ride to SDU and back.
Wear your conference badge at all times
Your conference badge is your gala dinner ticket. Therefore, please wear it to the gala dinner.
Please be on time
You may participate in visits to SDU Robotics, and the Award ceremony, or you may arrive in time for the Gala Dinner. Regardless, please make sure that your conference badge is scanned, and that you are wearing a Gala Dinner wristband on your left arm, no later than 19:15. The reason is, that the Gala dinner is fully booked, and more than 100 of your good friends did not get a seat, thus they are on the waiting list.
As a curtesy to them and for sustainability reasons, all 490 seats will be occupied. For a smooth transmission, we will distribute unclaimed seats between 19:15-19:30.
We appreciate your understanding, and on behalf of your fellow roboticists, we thank you for complying with this.
master chef thomas pasfall
Luxurious ERF 2023 Gala Dinner, served by Michelin accredited Master Chef Thomas Pasfall. Thomas used to sail with H.M. The Queen of Denmark, and has his own restaurant in down town Odense.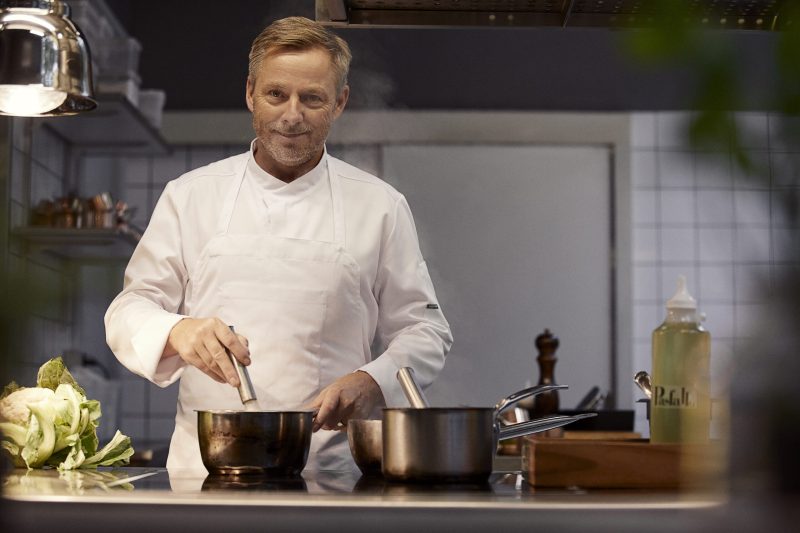 Thomas Pasfall has been in the hotel and restaurant business since the mid-eighties.
The journey from apprentice chef at Bygholm Parkhotel in Horsens to "Chef of the year", "Restaurant of the year", and on to being added to Michelin Nordic Guide 2016 & and continues to be there, underlines the impressive CV that Thomas Pasfall has achieved.
For 10 years now Thomas Pasfall has run Restaurant Pasfall in the heart of Odense.
MENU variations
There are essentially one menu, with one variation for Vegetarians and one for the combined variation for Vegan/Gluten free/Lactose free.
GALA DINNER MENU
Crispy tartlet made with "ø-lands" wheat and filled with a creamy smoked cheese from Funen (no cheese for vegan/gluten free/lactose free)– Glassed organic vegetables from Seden Mark and sauce made with stored herps.
Mushroom risotto made with pearl spelt and barley with creamy mushrooms, Allegårdens chicken made ala Pojarski (baked Lubbe for the vegetarians, no meat for Vegan, Gluten Free, Lactose Free), spinach and flakes of barley.
Apples grown on Funen with caramel, chocolate and rosemary sirup
Gluten free Bread and butter
Dietary requests are available when you order the Gala Dinner
Your personal dietary request:  Standard
If you want to change your dietary preference based on the menu below, please do so by means of our original order confirmation.