Abstract: Robots (at least the term Robot) originate from the theatre. What has theatre (anno 2023) to offer the field of HRI? Assistant professor and creative roboticist Edwin Dertien took a brief sabbatical last year to design, build and operate a robot actor for a professional theatre production. In this talk he will share his experiences and insights for social robot design, sketching outlines for further/future research.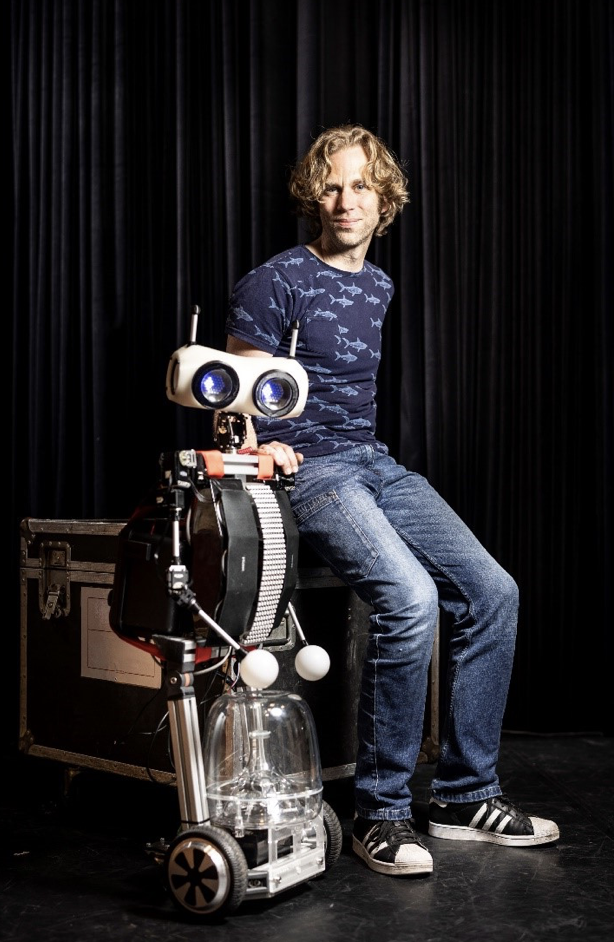 Bio: Dertien works as assistant professor at the Robotics and Mechatronics group of University of Twente, the Netherlands where he mainly lectures in the Creative Technology BSc programme and Interaction Technology MSc programme. He has contributed to various projects such as PIRATE (pipe inspection robotics for gas distribution mains) TISCALI (sewer
inspection) ROBOCONNECT (robotic cable splicing for power distribution) and more recently to HRI related research such as WEAFING (EU H2020 project on EAP powered haptic wearables) and HELPER (development of a Hospital Environment Linked Pain Evaluation Robot). Besides work at University he is directing a care facility for people with Autism, using a FabLab inspired workshop as daily occupation and he builds robotics for stage and television, recently accumulating his efforts in a newly founded Robot Theatre Lab.
He has given two TEDx lectures, participated in numerous television shows for science education, as well as being one of the makers in the Dutch version of 'The Big Life Fix' in 2021, designing assistive technology for people with very specific disabilities.
Event Timeslots (1)
Room 209 – Floor 2
-
16 March - Academic Track
Edwin Dertien